On 29th April the latest SSLN results were published, revealing the performance of our children in reading, writing, talking and listening. You would hope, that given the fact that almost all of our teachers now feel confident in delivering the Experiences and Outcomes of Curriculum for Excellence, that we would see an improvement in performance – that our 'new' curriculum is 'producing the goods'. So it is both sobering and saddening to learn that in fact, we are effectively worse than we were two years ago.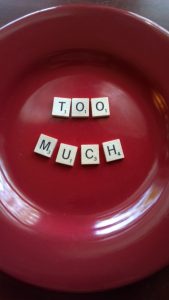 What is going on? Well, in my opinion, there are many things that have contributed to this result, including the fact that we are operating against a background of cuts and a 'do more with less' situation. In addition, through my work with schools, I can see that teachers have been working harder than ever – particularly over the last five years. However, perhaps we are working too hard to do everything – and we our spreading ourselves too thinly. The plate of primary teachers has never been so full, or heavy. If you consider everything we feel we should be doing, you will struggle to fit that into a two week timetable – let alone one. Starting with our curricular areas: Expressive arts, Health and wellbeing, Languages, Mathematics, Religious and moral education, Sciences, Social studies and Technologies – it looks like we have 8 major items to deal with, except for Languages, read Literacy and English – and two additional foreign languages, one from P1 and the other from P5. Don't forget two hours of quality P.E. a week, literacy and numeracy across learning, interdisciplinary learning, enterprise and finance education, charity work for responsible citizens, sustainability, eco-schools and green flags and gardens, outdoor learning, parental involvement, schools trips and school camps, assemblies, music tuition, sports day, transition, technology (but you only get 10 computers for 40 minutes every Wednesday and only 7 are working), and this term don't forget your end-of-term-show, Leavers' Assembly and Prize Giving. And that's just the tip of the iceberg. I believe that in the quest to 'do it all' we end up 'window dressing' – and the time for quality teaching and learning with daily, consecutive practice in our core skills, such as Maths and Language, is being eroded.
However, I also believe that these results reveal a much greater problem, when it comes to literacy: what we are currently doing is not working. What we are currently doing is not good enough. What we are currently doing is failing our children. It is time to stop what we are currently doing and find something else that works. Like what? Well, those among you that have had time to read the recent 3-18 Literacy and English Review from Education Scotland, or the much discussed Joseph Rowntree Foundation report on Closing the Attainment Gap in Scottish Education (Sue Ellis and Edward Sosu) – you will know that real, specific answers to this problem are in short supply. (Although the JRF report does contain many useful general suggestions /references to current research and is definitely worth reading.)
Let's review the results for a moment. The graphic below shows how we're doing in reading – I have only included the children who are 'doing very well', because, after all, after three or four years on First or Second Level – we would hope that all of our children would be confident and competent at the respective level in reading.
Here are our results from 2012: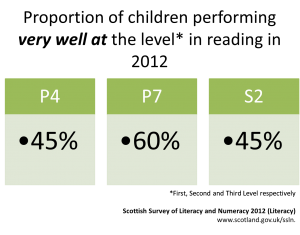 And our results from 2014: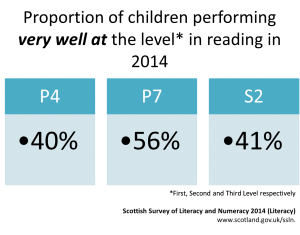 For comparison, here are some results from a school in east London at the end of Year 6 (Primary 7).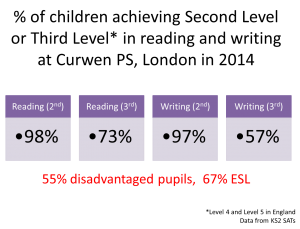 The first thing to bear in mind, is the fact that 55% of Curwen's intake is considered 'disadvantaged' – and 67% have English as a second language. Yet, despite these stats, 98% of their children are achieving Level 4 in reading – this is equivalent to our old Level D – or currently a Secure Second Level. Difficult to digest isn't it? That is 98%… compare to our 41% who are 'doing very well at the level'.
What are they doing differently? Well, if you're a regular reader of my blog – then you'll have guessed the punchline already. This school (and there are plenty more examples just like them) have been using a 'pure' phonics approach to the teaching of reading for over 10 years. Meanwhile, in Scotland, it is clear that our attachment to mixed methods is not serving us, or more importantly, our children, well.
It is time to wake up and smell the /k/ /o/ /f/ /ee/. We can no longer rest on the laurels of our past success. We can no longer afford to be smug and sneering when it comes to what is happening south of the border. They have closed the attainment gap. What about you?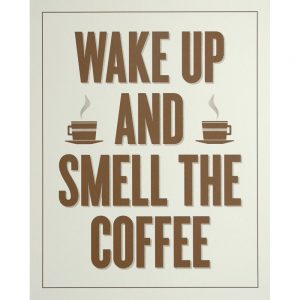 It's time to wake up and smell the /k/ /o/ /f/ /ee/