Reflective Reading: Engaging and Practical Ideas for Teaching Reading Comprehension in the Primary Classroom by Anne Glennie
This long-awaited title finally publishes the Reflective Reading methodology in print form, which is used in many schools and authorities across Scotland. This book provides the ideal accompaniment to in-service training and also serves as a 'teacher's manual' for those who are unable to attend face-to-face training. As a whole-school solution for teaching reading comprehension in one book, it's definitely one for the staffroom shelf!
Put the magic back into reading!
Engaging, inspirational, and practical – the complete course book and teacher's guide for Reflective Reading. This exciting approach improves attainment and motivation by revamping reading comprehension in the primary classroom.
Put the magic back into reading through fun, engaging ideas and activities for the teaching of reading. Create life-long readers with good reading habits, who read for pleasure and appreciate text in all its forms.
Ensure higher order thinking skills are embedded within teaching and learning using a new, child-friendly taxonomy – the Comprehension Compass. Teachers and children will enjoy completing and creating Task Maps, Long Reads and Short Reads and TexTplorers activities.
Inside you will find:
Short Read texts and activities, suitable for whole-class teaching and shared reading
Long Read activities and Task Map exemplars, for reading groups and differentiation
Advice on assessment, planning, managing reading in the classroom and choosing texts
Guidance on 'How to Build a Reader' and identifying reading difficulties
Child Friendly Reading Booklets to encourage a learning dialogue about reading to support Assessment is for Learning
A 'Cultivating a Reading Culture' questionnaire to encourage collegiate reflection on your school's current reading practice
Also includes photocopiable lesson plans, templates, and downloadable resources – so you can get started straightaway!
Chapter List
Here is a picture of the full chapter list and contents: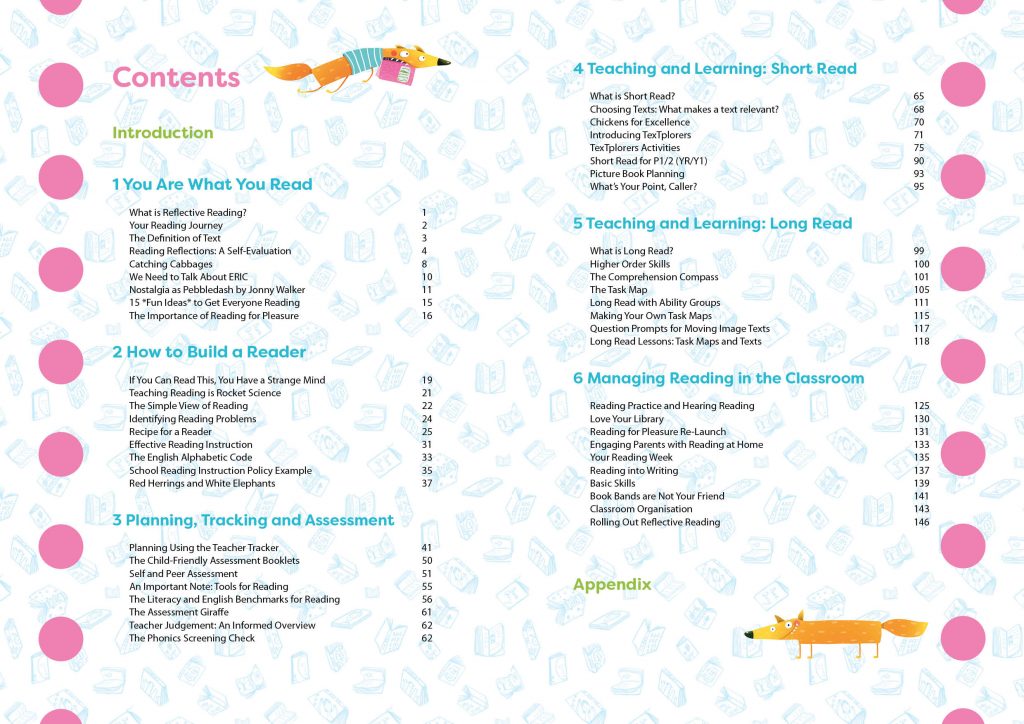 And if that wasn't enough, when you order directly from The Learning Zoo website, you will also receive a matching classroom pack* which includes:
5 x Comprehension Compass Spinners (so groups can choose their Task Map questions!)
1 x A3 full colour poster of the Comprehension Compass for your classroom wall
1 x A4 'Colour Your Own Comprehension Compass' poster, ready to photocopy, for children to colour in and stick on the front of their Reflective Reading Jotter or Journal
1 x full colour double-sided door hanger for when Everyone is Reading in Class!
1 x lovely matching bookmark to keep your place!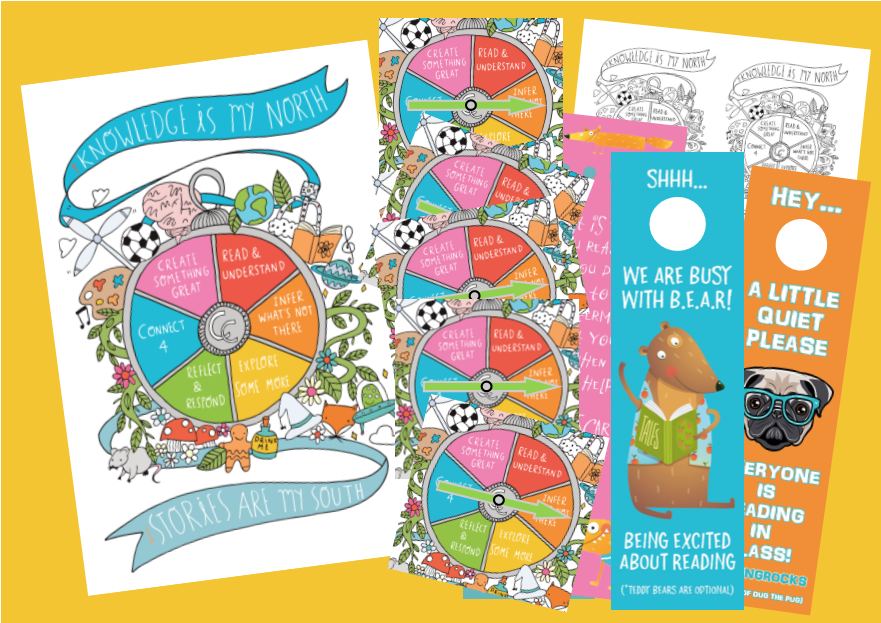 This picture is a bad artist's impression of what you will get… 😀
*Hurry, hurry, Mrs Murray! Only available while stocks last!
I want it now! Click here to be transported to the shop!