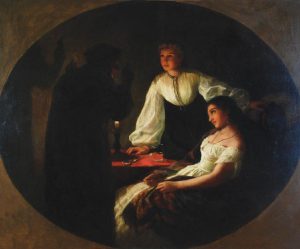 What are you doing in class to celebrate St. Andrew's Day? Well, here is another *new* Task Map along with a text to help you help your class to find out more about the patron saint of Scotland!
Today's Task Map lesson and text were added to The Teaching Trunk by Mr Grant from Aberdeenshire – and I know that you'll all be so grateful that he's shared his hard work so you can save a bit of time planning!
Just click below to download both documents:
And coming next week – two Task Maps for the John Lewis Man in the Moon advert – for different stages!
Want more? Click here to find Rosie the elephant and The Teaching Trunk, where teachers from all over Scotland are sharing their Task Maps, Textplorers activities and more from Reflective Reading!
Happy St. Andrew's Day to all!
Picture above: "Siemiradzki Noc-Andrzeja 1867" by Henryk Siemiradzki – http://www.rempex.com.pl/events/26-158-aukcja-sztuki-dawnej/lots/2827-noc-sw-andrzeja-wrozbita-1867. Licensed under Public Domain via Commons – https://commons.wikimedia.org/wiki/File:Siemiradzki_Noc-Andrzeja_1867.jpg#/media/File:Siemiradzki_Noc-Andrzeja_1867.jpg
*NEW* St. Andrew's Day Task Map and Text