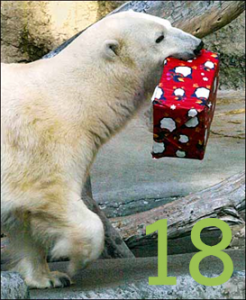 Salutations! Well, things are starting to get hectic here at Zoo HQ – the usual round of Christmas parties, concerts – not to forget the Christmas cleaning – and I still haven't written my cards. *has a sinking feeling as tomorrow is last posting day for second class and all the stamps we have are second class Christmas stamps*
So let's keep this brief. To get you organised in class, or at home, in 2015 we have this beautiful 'We're Going on a Bear Hunt' Family Organiser Calendar Thing – RRP £9.99 – which would look simply smashing up on the wall – you could use it with a red Sharpie to cross of the days until the next holiday!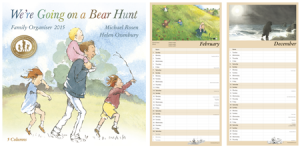 To enter today, all you have to do is complete the sentence below, on here in the comments, on Twitter or on Facebook… or if you haven't won anything yet – try all three – it will improve your chances significantly!
'I'm going on a…………… in 2015!'
Hope things aren't too hectic where you are – hang on in there – one more sleep.
Ba-bye,
Anne x (Jeffrey is on dusting duty getting all those hard-to-reach cobwebs)
We're Going on a Bear Hunt