As Anne is off gallivanting around the countryside, today's advent treat is another giveaway. I know that many of you have remarked on Anne's bracelets and bangles in the past, as she often tries to wear a 'book bangle' particularly if she is talking about reading!
Well, today – you too could be the proud owner of your own book bangle, guaranteed to turn heads and have everyone asking 'Where did you get that?'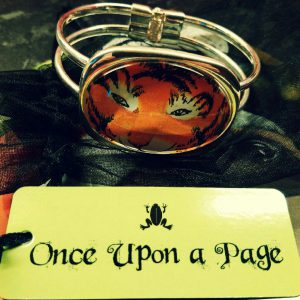 Here is a picture of the aforementioned 'book bangle' – no prizes for guessing what book it is based on! It is silver plated spring bangle with a fabulous glass cabochon of the Tiger himself. This would of course, make a very pretty present for someone, as it has a little tag and gift bag – but it would be even better as a treat for yourself!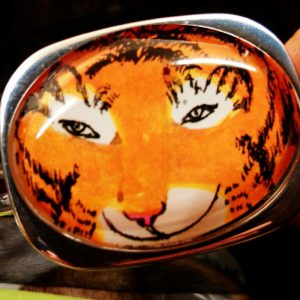 How to enter:
Simply tell us in the comments below, on FB, or on Twitter (@thelearningzoo or @anneglennie), what is your all-time favourite #childhoodbook ?
The lucky winner will be announced at 10pm, (if things go to plan!)
I'm off to find a book about giraffes now,
Stay curious,
Jeffrey xxx
The Giraffe Who Came to Tea