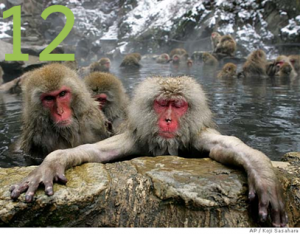 Well, can you believe it? Today marks the half-way point in our Advent Extravaganza! It also means that there are only 13 (unlucky for some) shopping days until Christmas… but that's the bad news – the good news is, that, for most of you, there's only five school days until the holidays! Yipee!
That is tremendous news because most of the teachers that I know are feeling – and let's be honest, some of them are looking – like the snow monkeys above. So hang on in there…
Today's advent is another book… but not just any book, oh no. This book will appeal to those of you that like:
* adventures
* great stories
* comics and graphic novels
* Scots
* all of the above!
The Adventures of Tintin have been published in over 50 languages, and last year Tintin: l'île Noir was translatit intae Scots by Susan Rennie – The Derk Isle.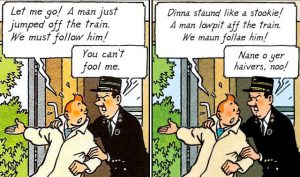 Now to ring the changes, you have to answer the following question to enter the competition today!
What is the name of Tintin's dog?
Tap out your answer to us on Twitter, FB or in the comments below!
Guid luck,
Jeffrey x (the over-worked giraffe)